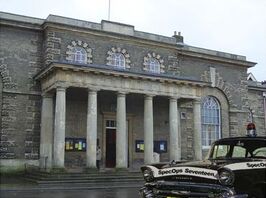 SpecOps, the Special Operations Network, handles things "too unusual or too specialized" for the ordinary police. It had 32 departments originally. However, as part of the massive budget cuts of 1992, the bureaucracy was maintained, but the service was disbanded. Due to a clerical oversight, five departments are still in operation. These are:
From the official SpecOps website, "Who We Are & What We Do":
"The special operations network was instigated in 1928 to handle policing duties considered either too unusual or specialised to be tackled by the regular forces. Over the years we have found our power increased to look after governmental departments, an opportunity to serve that we find fulfilling and challenging. 
"Despite the major cuts that overtook SpecOps in the winter of 1991/1992, we look forward to increasing the efficiency of the Network's legendary bureacracy by disbanding more departments. Soon we will have nothing to do but manage ourselves managing ourselves, and the huge staff at SO-1 will celebrate 100% efficiency by employing more management staff to be able to maintain those high standards.
"There were thirty-two divisions in total, not all of whom were covered by the parliamentary 'freespeech' ordinance 392810-hg25."
Departments
Edit
SpecOps-1: Special Operations Network Management (Internal Affairs)
SpecOps-2: "Weirder stuff"
SpecOps-3: Office for Alternate Universe Travel ("Weird Stuff") 
SpecOps-4
SpecOps-5: Search & Containment
SpecOps-6: National Security
SpecOps-7
SpecOps-8
SpecOps-9: Antiterrorism
SpecOps-10
SpecOps-11
SpecOps-12: Office for Special Temporal Stability (The ChronoGuard)
SpecOps-13: Genetic Detectives
SpecOps-14: Tactical Support Unit
SpecOps-15: Drug Enforcement Agency
SpecOps-16
SpecOps-17: Werewolf and Vampire Disposal Operations
SpecOps-18
SpecOps-19
SpecOps-20
SpecOps-21: Transportation Authority
SpecOps-22: English Aviation Authority
SpecOps-23: Food and Drugs Administration
SpecOps-24: Art Crime
SpecOps-25: Industrial Safeguards
SpecOps-26: Pasta Police
SpecOps-27: The Literary Detectives
SpecOps-28: Inland Revenue Services
SpecOps-29: Shakespeare Division
SpecOps-30: Public Services Enforcement Authority ("Neighborly Disputes")
SpecOps-31: Cheese Enforcement Agency (CEA)
SpecOps-32: Horticultural Enforcement Agency
SpecOps-33: Entertainments Facilitation Department
SpecOps-34: GlobalWebPolice
Administrative staff
Edit
Ad blocker interference detected!
Wikia is a free-to-use site that makes money from advertising. We have a modified experience for viewers using ad blockers

Wikia is not accessible if you've made further modifications. Remove the custom ad blocker rule(s) and the page will load as expected.