From publisher's description:
Jasper Fforde's exuberant return to the fantastical BookWorld opens during a time of great unrest. All-out Genre war is rumbling, and the BookWorld desperately needs a heroine like Thursday Next. But with the real Thursday apparently retired to the Realworld, the Council of Genres turns to the written Thursday.
The Council wants her to pretend to be the real Thursday and travel as a peacekeeping emissary to the warring factions. A trip up the mighty Metaphoric River beckons--a trip that will reveal a fiendish plot that threatens the very fabric of the BookWorld itself.
See also
Edit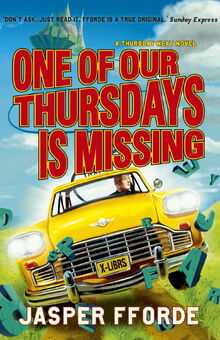 Ad blocker interference detected!
Wikia is a free-to-use site that makes money from advertising. We have a modified experience for viewers using ad blockers

Wikia is not accessible if you've made further modifications. Remove the custom ad blocker rule(s) and the page will load as expected.