The series is set in the Kazam Universe.
In the good old days, magic was indispensable—it could both save a kingdom and clear a clogged drain. But now magic is fading: drain cleaner is cheaper than a spell, and
magic carpets
are used for pizza delivery. Fifteen-year-old foundling
Jennifer Strange
 runs 
Kazam
, an employment agency for magicians—but it's hard to stay in business when magic is drying up. And then the visions start, predicting the death of the world's last dragon at the hands of an unnamed
Dragonslayer
. If the visions are true, everything will change for Kazam—and for Jennifer. Because something is coming. Something known as... Big Magic.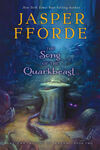 Magic has been in a sad state in the
Ununited Kingdom
for years, but now it's finally on the rise, and boneheaded King
Snodd IV
knows it. If he succeeds at his plot, the very future of magic will be at risk! Sensible sixteen-year-old
Jennifer Strange
, acting manager of
Kazam Mystical Arts Management
and its unpredictable crew of sorcerers, has little chance against the king and his cronies—but there's no way Kazam will let go of the noble powers of magic without a fight. A suspenseful, satirical story of
quarkbeasts
,
trolls
, and wizidrical
crackle
!
Even
Jennifer Strange
may be defeated when the long-absent Mighty
Shandar
makes an astonishing appearance and commands her to find the
Eye of Zoltar
—proclaiming that if she fails, he will eliminate the only two
dragons
left on earth. How can a teenage non-magician outdo the greatest sorcerer the world has ever known? But failure is unacceptable, so Jennifer must set off for the mysterious
Cadir Idris
in the deadly
Cambrian Empire
—a destination with a fatality index of fifty percent. With the odds against them, will Jennifer and her traveling companions ever return to the
Kingdom
of
Snodd
?
Humans V. Trolls Edit
Publication date to be announced.
See also
Edit
Ad blocker interference detected!
Wikia is a free-to-use site that makes money from advertising. We have a modified experience for viewers using ad blockers

Wikia is not accessible if you've made further modifications. Remove the custom ad blocker rule(s) and the page will load as expected.